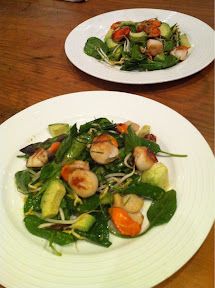 This is a pretty light salad with some zingy flavours. We had it as it is for dinner tonight, because it's Friday and this was about all the cooking I could cope with. We'd also already eaten quite a bit of smoked salmon with crackers, etc. I think this would be a nice starter for a special dinner. Or to make it more substantial, you could add some carbs in the form of sautéed potato slices.
Serves 2
2 cups baby spinach leaves
1/2 cup mungbean sprouts
8 asparagus spears, blanched and cooled under cold water
1/2 avocado, roughly diced
Dressing:
2cm piece ginger, finely chopped
Zest, finely chopped, and juice of 1 medium lemon
2 tablespoons avocado oil
1/2 teaspoon sesame oil
1 teaspoon sugar
1/2 teaspoon soy sauce
12 scallops, roe on
1 spring onion, halved lengthwise and sliced into chunks
1 kaffir lime leaf, thinly sliced, to garnish (optional)
Combine spinach, sprouts and asparagus in a large bowl and mix well. Combine dressing ingredients in a jug and mix well to combine.
Heat a little avocado oil in a pan over a medium high heat. Add spring onions and scallops and cook for 1-2 minutes, turning scallops. Meanwhile, dress the salad and toss well.
Remove scallops from heat. Divide dressed salad between 2 plates. Add avocado chunks. Divide scallops between plates and garnish with kaffir lime leaves if you have them.
- Posted using BlogPress from my iPad