Wow..... home sweet home after about 4 hours sleep.... but what a night!
I thought you might like a bit of a match report today.
Sandy says this was the most important day in our history... I'm not sure about that, but I think it was certainly a once in a lifetime experience. An awesome day and night.
We started the night in Ponsonby; our day had been spent mooching around filling in time really, waiting for game time! Sandy's friend Dave offered us his empty apartment in Herne Bay to stay in; it was really quite palatial and a brilliant base for our big weekend in the city, so we were really lucky. Much better than driving home after the game like we have been doing.
We had an early dinner at Prego, where everyone was wearing black and All Blacks attire, and the place was packed with game-goers. Everyone (including us) was wearing silver ferns on their faces, and quite a few others had the same T-shirt as I was wearing (Keep Calm, Piri's On). The mood was excited and filled with anticipation.
We left Prego around 7 to join the fan trail from there to the ground. We thought the fan trail was amazing last week, but this was even more incredible. There were thousands and thousands of people walking along towards Eden Park along Great North Road and down Bond St; every single person wearing fan gear. People were dressed up in crazy outfits; there was a Star Wars storm trooper with a "welcome to the dark side" banner; there were people in sheep outfits; people with light-up silver ferns on their heads; farmers and full rugby gear and bucket heads and flags, flags, flags. It's hard to describe the mood - it was so joyful and excited; everyone anticipating a great event and feeling pride and support for their team. All along the trail there was entertainment - buskers and bands and stilt-walkers and kapa haka groups. Fantastic.
We got to the ground about half an hour before kick-off and found our seats - at the other end of the stadium from the other games; in the corner. We had a pretty good view. Beside me were a couple of Scotsmen, one in a kilt. Behind us were a couple of Irish guys - one kept offering us nips of whiskey from a hip flask he'd managed to get in, because he could see how nervous we were! (We declined). They were good company throughout the game though; especially the Irish dudes. They were frustrated at the kiwi fans for not yelling and singing more, but I think everyone was just too tense. They had some interesting little made-up songs; one went something like "Oh Corey Jane, you're the love of my life, Corey Jane, I'd let you f*** my wife, oh Corey Jane...." etc.
I can honestly say I did not enjoy the game at all; except for about 5 minutes - when we scored our try, and the last 2 minutes. The rest of the time I was soooo nervous - I felt like I do when I have to make a speech... just a huge knot in my stomach. Especially as Sandy was extremely tense as well, and I was thinking about how devastated he would be if we lost.... the Scottish guy next to me asked Sandy how his leg was at half time, because I'd been gripping it so hard with my fingers. We were yelling like crazy, but then in the second half the crowd went really quiet, when it looked like maybe we might lose. The thought of that was so terrible. And France looked really good. The French fans were going crazy, too. But in the end, after what seemed like a super-fast 40 minutes, it was all over. Then everyone went absolutely nuts. Everyone hugged everyone; I hugged and kissed complete strangers all around us; Sandy cried. It was extremely emotional, a mixture of joy and relief. Our Irish friend said to me "You guys are going to have such a good night!" and made the universal hip-thrusting shagging movement!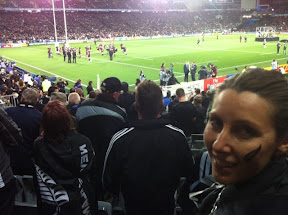 No-one left the stadium until all the presentations were over, and the ABs had been around the field and acknowledged the crowd, and we all went crazy again and again; when Richie was being interviewed; when Ted was being interviewed; when Brad Thorne came down to our end of the field and shed a tear.
We walked the fan trail back, all the way to the bottom of town. The crowd was ecstatic; everyone was mates. Spontaneous singing and chanting and hakas breaking out. The further we got along the trail, the more people we saw, and the more people who hadn't been at the ground, but who'd been partying in town. Cars were driving up and down bedecked with flags and tooting and hollering. Queen Street was a sight; I don't know how many people there were but from one end to another it was just covered in bodies, people of all ages and stages and colours and nationalities. It was crazy.
Little moments stand out like little snapshots: French fans getting spontaneous hugs and good wishes from ABs fans; a guy coming out of the toilet at the ground holding a rubber chicken and saying "I found a cock in the toilets!"; two ladies in nun costumes with signs saying "We abstained for the game"; a middle aged lady sitting astride a police motorbike getting her picture taken, then jumping off guiltily and confessing to the cop who hadn't seen her, who just laughed it off cheerfully.
All I wanted, I'd said before the game, if we won, was a glass of really good champagne. Every bar everywhere had queues to get into it, but we decided to head towards the viaduct and take our chances; we figured if all else failed we'd just go home. But we lucked out by walking all the way to the end of Princes wharf, where we found a little bar that had no queues, and lots of friendly revelers. We ordered two glasses of French champagne and sat down, with a huge amount of relief after about two hours of walking. That champagne tasted amazing! And the nice waitstaff even gave us a free refill.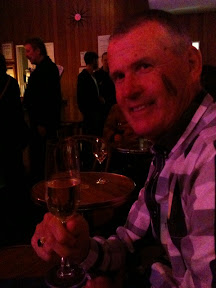 We eventually started the long walk back to Herne Bay about 3am. There were no free taxis anywhere so we were resigned to dragging our exhausted bodies home up the hill, but thankfully a lovely taxi driver stopped for us on Wellesley St. We had the feeling the partying was going to go on for many more hours in town.
So tired today, and my feet are very sore, but very very happy and proud for our country. It's only a game but it means so much to so many people, and I think this is so good for us.
Everything is 'victory' today. Sandy's wearing his victory shirt, we had our victory breakfast, then our victory drive home. I will need my victory nap soon.
- Posted using BlogPress from my iPad