I've come over all Italian in the last few days. I think it started when we saw the movie "The Salt of Life" at Matakana cinema. It didn't really have anything to do with food, except for one small scene in which the characters ate
Melazane alla Parmigiana
(Eggplant Parmigiana) and for the next few days my mind was fermenting thoughts of eggplant. As luck would have it they are right in season, and cost just $1.50 each at Nosh at the moment. So it's been eggplant central here.
I did make a parmigiana and it certainly was delicious, but to be honest I found it a teeny bit of a cheese overload. So I need to have a think about that and work on it - I think maybe some spinach and other vegetable goodies might tone it down a bit.
In the meantime I've been having fun with eggplant rolls (
involtini
, if you want to be Italian about it) and these I really do love. These ones below are not really strictly Italian at all, being stuffed with feta, cream cheese and parmesan spiked with lemon and chilli. That just happened to be what I had in the fridge. In Puglia, according to Claudia Roden's
The Food of Italy
, they simply grill the slices of eggplant and roll them around a bit of mozarella and a basil leaf, then bake until the cheese melts. This sounds divine, so next time I make mozzarella I am going to be all over that.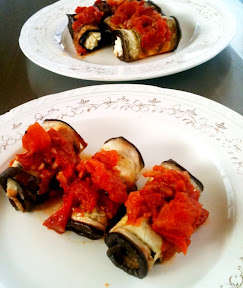 I don't really have a recipe for these.... it is the holidays, after all. I may write one if anyone really thinks they need it (post a comment and let me know). Just mix the cheeses with a fork until you're happy with the combo, add chilli and lemon zest at will and away you go. I've baked the slices of eggplant in the oven, keeping an eye on them because it doesn't take long to go from deliciously brown to hopelessly charred. Roll away and top with a quick fresh tomato sauce (shallots, garlic, chopped ripe tomatoes, red wine, sugar, salt). Scatter over some basil leaves if you like. A platter of these with a lovely green vege salad and some crusty bread makes a fab lunch, which is exactly what I did with my friend Gertrud on Wednesday. These are also quite delicious served cold, as a starter, which is how we had the leftovers last night.
Thoughts, people? Let me know if you try these and what you think!
PS - can I just say how much I am loving my new wireless keyboard for the iPad! Thank you, Sandy McNeur! xxx
- Posted using BlogPress from my iPad